Main content starts here, tab to start navigating
Welcome to
Baker's Keyboard Lounge
Jazz in Detroit never had a better friend than Clarence Baker (1910-2003).During the 62 years at his club, Baker's Keyboard Lounge, he brought aWho's Who of jazz legendary greats to his club, which eventually helped it tobecome one of the most important and recognized jazz venues in the world.
Due to declining health and the many demands it requires to run a successfuljazz club, Clarence finally sold Baker's in 1996 to ex-bar owner JuanitaJackson, formerly of Juanita's Lounge in northwest Detroit, and her partnerJohn Colbert. Hugh W. Smith and Eric J. Whitaker purchased the legendaryLounge February 28, 2011.
Together, for the past 8 years we have continued the tradition of keepingjazz alive at Baker's. the club still takes an active interest in national andinternational artists being showcased. The hipster vibe, being infusedmusically by the on-going acts who perform six days a week is the key to oursuccess of keeping a great legacy still going after 80 years.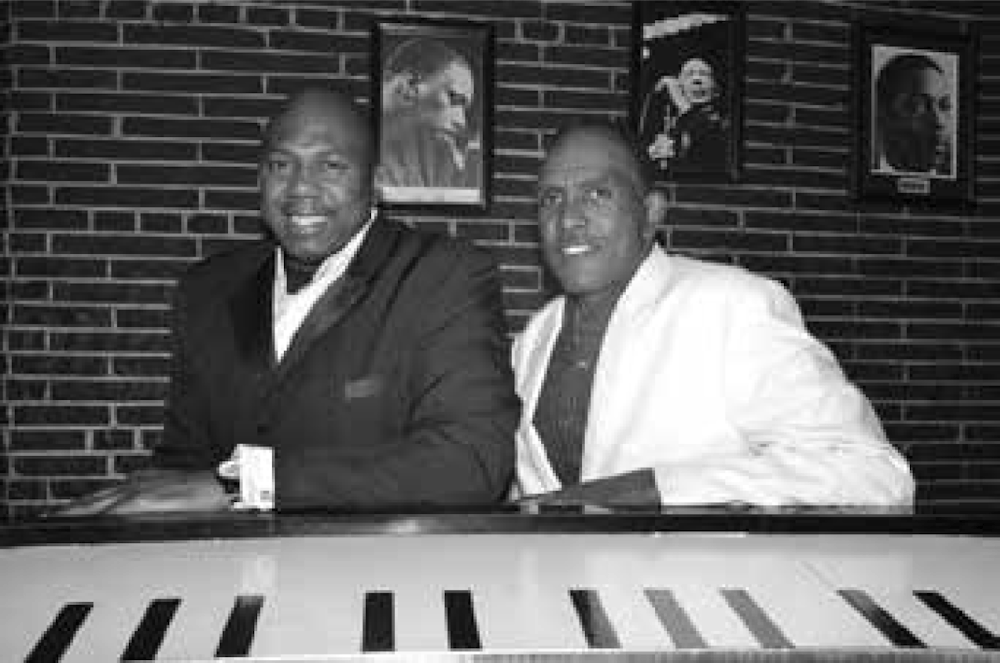 Clarence Baker used to say shortly after he sold the club, "Not a day goes bythat I don't pray for your success." It is unfortunately ironic that as of the lastseveral month the club finds itself in a dire financial situation caused by therecession and other contributing factors. Never the less, we are determined tokeep the doors open. And with your continued support, I am hopeful we will.
A Brief History of Baker's
The story of Baker's Keyboard Lounge is, in many respects, a history of jazz. At one time or another, almost every jazz musician of national importance, as well as other artists who never achieved the recognition they were due, has played on our bandstand.
But no one knew in May, 1934, when Francis Baker opened a beer and sandwich restaurant at this same location that eighty five years later would be the longest running jazz nightclub anywhere in the world.
However it makes sense that one of the most well known and respected jazz clubs would be in Detroit. The words Detroit and Jazz are virtually synonymous. Many of the great jazz talents musicians like Elvin Jones, Milt Jackson, Rolland Hanna, Donald Byrd, Barry Harris, Tommy Flanagan, and Kenny Burrell - called Detroit home. It is only proper that Detroit have a club in which jazz musicians and jazz aficionados feel at home.
When Clarence Baker took over management of Baker's following his father's stroke in 1939, his main ambition was to search out the finest jazz musicians and bring them to Detroit.
In the beginning, the exceptional Pat Flowers, who learned the tricks of the trade from Fats Waller, was the house pianist. He started a great tradition that continues today. While we've brought jazz musicians of every kind to our bandstand, from blue singers like Sippie Wallace to electric guitarists like Pat Metheny, what has pleased us more than anything is the outstanding jazz keyboard players who've entertained our audiences.
Some of the many jazz icons that have performed at the club include:Charlie Parker, Gene Krupa, Oscar Peterson, John Coltrane, WesMontgomery, Art Blakey, Horace Silver, Thelonious Monk, Sonny Stitt,Dizzy Gillespie, Dave Brubeck, Cannonball Adderley and Earl Hines.
The names could go on for several pages. Yet, jazz seems to begin and end with the piano at Baker's. It was Art Tatum who in 1957 personally picked out our 7-foot Steinway that still gets tuned every week. Another decorative touch which contributes to the unique ambience of Baker's is the famous keyboard-shaped bar designed by Blain Ford in the 1950's.
And just as exciting as the jam sessions have been the unexpected surprises. Like the night Nat King Cole came to the club and sat in on the piano; or when George Shearing came to hear one of his favorite bass players; or the time Ella Fitzgerald stopped in to see Tommy Flanagan and stayed to sing.
Those were memorable nights for us. We hope tonight will be just as memorable for you.